Fu Lan was born into the mallah (boatmen) caste, in the small village of Ghura Ka Purwa (also spelled Gorha ka Purwa) in Jalaun District, Uttar Pradesh. She was the fourth child of Devi Din(Ding) and Mu - lan (notice just first name denotes poor).
The place of her birth, Gorha Ka Purwa, is little more than a collection of conical mud huts on the banks of the sluggish Yamuna river; it features on no map.
According to the anthropologists, the word Mallah comes from an Arabic word meaning `to be salt,' or 'to move the wings as a bird.' It is believed that a long time ago, when there was no other means of transport, merchandise was transported by boats, and the boatmen came to referred to as Mallah, or Mal- la which literally means, 'bringer of goods or merchandise' in Hindi.
They are mountain people from North India and are descendents of Nishada, a mountain tribe of the Vindhya Range,
The Mallah themselves believe that they are descended from a boatman called Bali or Baliram. It is said that he was so strong that he could carry his boat to the river and back under his arm.
Fu Lan Devi, the famous 'Bandit Queen' is a Mallah by caste, and was a terror in these parts during the early 1980s. She massacred 22 upper-caste Thakurs in the village of Behmai in Uttar Pradesh to avenge her humiliation and repeated gang rape over a period of three weeks at their hands. She became a legend and she is considered the reincarnation of Durga.
In fact, less than 5 ft tall


Gorha ka Purwa


Gorha ka Purwa is an interesting place. Gorha means White and Purva means East. So Fu Lan probably migrated from North East or from Chinese through Nepal origin. Hence her family was poor.


The legendary Phoolan Devi's journey started on August 10th 1963, in Gorha Ka Purwa, Uttar Pradesh, a small village on the Yamuna River in a location where girls were treated as an unfortunate burden.





Ding and Mu-Lan - Fu Lan's Dad and Mom



Din Family History. Muslim: shortened form of any of the many Arabic names formed with the word din 'religion', for example Saifuddin 'sword of religion' or Salahuddin 'righteousness of religion'.Indian (northern states): Hindu name derived from Sanskrit dina 'humble'.

In China Din name still continues in the Surname Ding

Ding (Chinese: 丁; pinyin: Dīng; Wade–Giles: Ting1) is one of the simplest written Chinese family names (the only two characters that are simpler are "一" and "乙"), written in two strokes.

Among the Hui Muslims, the surname Ding is thought to originate from the last syllable of the Arabic honorific "ud-Din" or "al-Din" (as in, for example, the name of the Bukharan Muslim Sayyid Ajjal Shams ud-Din (1210–1279; also spelled al-Din), who was appointed Governor of Yunnan by the Mongol Yuan dynasty).[2]

In particular, descent from Sayyid Ajjal Shams ud-Din, known in Chinese as Saidianchi Shansiding (赛典赤赡思丁), is attested in the Ding lineage of Chendai, near Quanzhou, Fujian.[2][3]





The Ding family also has branches in India, Philippines, Indonesia, Malaysia, and Singapore among the diaspora Chinese communities there but no longer practise Islam; some maintain their Hui identity.


Fu-lan's father owned an acre (0.4 hectare) of land with a huge Neem tree on it. He hoped that the valuable timber of the tree would enable him to pay the dowry for his daughters' marriages. When Phoolan was eleven years old, her grandparents passed away within a short time and her uncle declared himself the head of the family. He took over the inheritance by deceit, leaving Phoolan's family to remain in poverty. Her Uncle had a son, Mayadin. He cut down the Neem tree and sold the wood, intending to keep the proceeds for himself. Although her father submitted with mild protest, Phoolan confronted her cousin. She taunted him, publicly called him a thief and attacked him. With her elder sister, she staged a sit-in on his land. Even after violence against Phoolan — knocking her out with a brick — she wouldn't relent. In an effort to rid himself of Phoolan, Mayadin arranged to have her married to a man named Putti Lal, who lived several hundred miles away. Putti Lal was in his thirties; Phoolan was eleven. Devi claimed in her autobiography that he was a man of "very bad character".



Phoolan faced the destiny like every other low-caste Indian girls who are to work for the upper-caste land owning families. At the age of 11, Devi's father sold her into marriage to a man three times her age. He got a bicycle and a cow in exchange. Eventually she ran away after being abused and humiliated. But her family were less than delighted by her return. As an errant married woman, the villagers shunned her. They also accused her of bathing naked in the river, and of louche behaviour.



Phoolan devi was married at the age of eleven to a ruthless man in his thirties in exchange for a cow. After being raped by her husband for several years, she somehow managed to escape from her abusive husband.

Fu-Lan'ss husband raped and mistreated her, which was agonising for her to endure, particularly due to her age and isolation. She ran away several times, and would be returned to her husband for severe punishment. She was returned to her village, being deemed too young to fulfill her duties as a wife. Three years later in 1977, she was returned back to Putti Lal's home. She protested, and was returned back to her father's home. A wife leaving her husband was a serious taboo in the rural areas, and Phoolan was marked as a social outcast. Phoolan continued to challenge her cousin Mayadin, accusing him of thievery. She took him to court for unlawfully holding her father's land, but lost the case.

In 1979, Mayadin accused Fu Lan of stealing small items from his house, and arranged for her arrest by the police. During the three days in jail, she was beaten and raped by the authorities. She blamed her cousin for the injustice, and developed hatred for men who routinely denigrated women. When released from prison, she was further shunned by her village and her family. Justice was elusive and she felt hurt by her helplessness.


At the age of 18, she was gang raped by high caste outlaws after the gang she belonged to was assailed by rivals. She was locked up in Behmai, an obscure Thakur town. For two weeks, a group of Thakur guys gang raped Phoolan, multiplke times until she lost her consciousness.

Vikram Mallah

In 1979, a gang of dacoits abducted Phoolan; some also say that she was not kidnapped but "walked away from her life". The gang leader, Babu Gujjar, who was a Gujjar, wanted to rape her. However, she was protected by Vikram Mallah, the second-in-command of the gang who belonged to Phoolan's caste. One night when Babu attempted to rape Phoolan, Vikram killed him and assumed the gang leadership.




Like most good myths, some of the details remain blurred and Devi herself was fond of obfuscation. But there seems no doubt that at the age of 18-20 she was kidnapped by a dacoit gang leader, Babu Gujar. He led a group that roamed the valley's impenetrable ravines. Gujar molested her for 72 hours before he was dramatically shot dead by his lower caste subordinate, Vikram Mallah. Devi promptly became Mallah's mistress. Over the next year, across an area of 8,000sq miles, the pair did a virtuoso impression of Bonnie and Clyde.




Phoolan fell in love with this man who had undoubtedly protected her, and became Vikram's second wife. The gang ransacked the village where Phoolan's husband lived. Phoolan stabbed her estranged husband, and dragged him in front of the villagers. The gang left him lying almost dead by the road, with a note as a warning for older men who marry young girls.

Phoolan Devi learned how to use a rifle from Vikram, and participated in the gang's activities across Uttar Pradesh and Madhya Pradesh. The activities consisted of ransacking high-caste villages, kidnapping upper-caste landowners for ransom and train robberies. After every crime, Phoolan Devi would visit a Durga temple and thank the goddess for her protection. The gang hid out in the ravines of Chambal in Dholpur.

They blew up trains, ransacked upper-caste homes, and carried out a series of kidnappings and murders. For the first time in her life Devi was happy. But this blissful state did not last. "There was a loud noise, the sound of a bullet being fired," she later recalled. "Vikram sat up suddenly, and I thought the police had surrounded us. I reached for our rifles but they had been removed. Then, Vikram fell forward." Two ex-gang members, Sri Ram and Lala Ram, had shot Mallah dead. They were incensed that a lower-caste villager should have become leader of their gang.


Worse was in store for Devi: she was tied up and taken to the remote village of Behmai, where a succession of upper-caste thakur men raped and humiliated her over a period of several days. In a final indignity they paraded her naked around the village. But after escaping and joining another dacoit gang, Devi decided to carry out a singular form of lower-caste retribution.

Several months later, she came back to Behmai, dressed this time in a khaki coat, blue jeans and wearing bright lipstick. A Sten gun hung from her shoulder, and in her hand she carried a battery-powered megaphone. Devi called all the villagers out and asked them to hand over Sri Ram and Lala Ram. "If you don't hand them over to me, I will stick my gun into your butts and tear them apart. This is Phoolan Dev speaking. Jai Durga Mata [Victory to Durga, the Mother Goddess]," she allegedly said. The two men could not be found. And so Devi rounded up all the young men in the village and stood them in a line before a well. They were then marched in single file to the river. At a green embankment they were ordered to kneel. There was a burst of gunfire and 22 men lay dead.

For the next two years, Devi avoided capture as her fame grew. Lower caste villagers, for whom she became a heroine, called her Dasyu Sundari (Beautiful Bandit). "Phoolan's two great gifts are rabid cunning and fatal charm - an irresistible combination and a great achievement in a woman who is so brutal," Sunil Sethi, an Indian critic, said.

After all the sexual tortures, Phoolan chose a path of courage and leadership and ended up being a gang leader in her own right and also waited to avenge. Phoolan Devi started as a burglar, but soon transformed into a dacoit. In 1981, Phoolan and her gang returned to the village where she had actually been raped and recognized two men who took part in that gang rape. When they rejected to tell the whereabouts of the remaining members, an agitated Phoolan Devi opened fire and killed 22 of them.

t was the biggest bloodbath by a hooligan in India's record, catching the attention of Prime Minister Indira Gandhi. The upper caste power had actually not just been endangered, it was embarrassed and repelled. While uppers regarded Phoolan as a callous murderer, for countless untouchables, this gun-slinging criminal had become a devi - Phoolan Devi an incarnation of the Goddess Durga.



Man Singh Malliah

Phoolan and Man Singh soon became partners. Man Singh became her lieutenant, lover and a brother for Phoolan( as stated in her autobiography - I,Phoolan Devi). Both then joined leaders of a gang composed of Mallahs. The gang carried out a series of violent raids and robberies across Bundelkhand, focussing on targeting upper-caste people.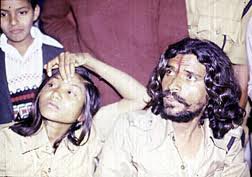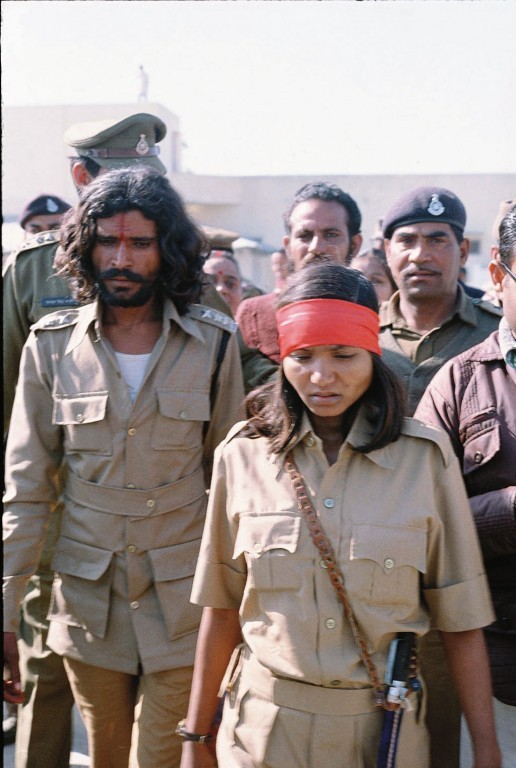 Most were surprised to discover that India's most infamous woman criminal was, in fact, less than 5ft tall. Devi was to spend the next 11 years in the Central jail in Gwalior, a pleasant enough north Indian town famous for its towering hill fort. She described the experience as akin to "rotting". In jail, she was befriended by the writer Mala Sen, whose account of her life, Bandit Queen, would eventually metamorphose into the film that made her internationally famous in the 1990s.

She finally surrendered to the Indian federal government after they accepted her demands to return her father's land, to provide a government job to her sibling, and not to offer a death sentence to her gang members, but a 8 year imprisonment.


After her release in 1994, Devi then set about reinventing herself once again. She got married, converted to a form of Buddhism and entered politics, forming a new political party for the lower castes.

Politics, though it brought the privilege of parliamentary immunity, was a far duller profession than being a dacoit , it turned out. In recent years, Devi was rarely mentioned in the newspapers. Until her assassination yesterday, she had been leading a life of relative obscurity and calm.

She was, perhaps, settling down. Her last major controversy involved Kapur's film Bandit Queen, which she sought to have banned. "It's simply not the story of my life, so how can they claim it is?" she told Mary Anne Weaver of Atlantic Monthly magazine. "In the film I'm portrayed as a snivelling woman, always in tears, who never took a conscious decision in her life. I'm simply shown as being raped over and over again." Rape, she added, was a fact of life for lower-caste women across the subcontinent, who were regarded by the rich as their "property".

In 1996, after 2 years after her release, she stood for the eleventh Lok Sabha election for Samajwadi Party from Mirzapur area in Uttar Pradesh and won the election and served as an MP.


On July 25, 2001, Phoolan Devi was shot dead by 3 masked shooters outside of her Delhi home. She was rushed to a close by hospital but was stated dead.


It is likely to be some days before the mystery of her death is finally unravelled. Police in New Delhi have a few clues. They have a number plate CIM907. They are checking the Maruti car used by the assassins for finger prints. One of the killers was shot in the melee, and all hospitals in Delhi have been put on alert for anyone wandering in with suspicious gunshot wounds.

Yesterday, a deep oval pool of blood could still be seen outside Devi's house, beneath a gold-plated sign which read: "Phoolan Devi MP (L/S) (Lok Sabha)." Soon, though, the monsoon rains will wash the blood away, as the woman who shook up a subcontinent vanishes further into myth.
She told me Umed could kill her. She was so afraid that she avoided contact with him. She had even stopped sleeping with him because she thought he might wring her neck," the 60-year-old mother, Mula Bai, said on Wednesday.

Phoolan Devi, a Samajwadi Party MP, was shot dead outside her official residence on July 25 when she returned for lunch from Parliament House. The four suspected killers have been arrested.

After the death

Ten days before her murder, Phoolan Devi told her mother that she was afraid that husband Umed Singh could get her killed over her vast property.
Mula Bai said Umed Singh, who married Phoolan about six years ago, "stayed with her for the money but they never lived as husband and wife."

"They used to have constant fights. I can't tell you what all he used to do to extract money out of her."

Munni Devi, Phoolan's younger sister, was more vocal: "Umed is involved in the murder," she said.

Umed Singh said he was in no way involved in the killing and that the police should get to the bottom of the incident.

"His tears are fake, and he wants to use the opportunity to enter politics. His affection for Phoolan is a facade. He claims he is married to my sister, but where is the proof?" Munni Devi said.

"No one from our family attended the so-called marriage. I have been with my sister ever since she was released from jail in 1994. I don't know anything about the marriage."

Phoolan Devi, who became known as the 'Bandit Queen' after she shot dead 22 upper caste Hindu men in Uttar Pradesh in 1981, was jailed for 11 years after she surrendered in 1983. She became an MP in 1996 and was re-elected in 1999.

The slain MP's lawyer, Kamini Jaiswal, said Phoolan wanted to divorce Umed Singh in 1999 and had filed a divorce petition in May this year.

"Phoolan was most disturbed with her husband," she said.

Munni Devi said: "The police should investigate where Umed Singh was when my sister was murdered. He used to normally leave the house in the afternoon but on that day he left in the morning."

Umed Singh claimed that he was around 15 km away from the murder site. The police has interrogated him.

Munni Devi claimed that a day before Phoolan was murdered she was planning to make a will, leaving nothing for Umed Singh.

"It seems that he came to know all about it."

Phoolan's husband Umed Singh

The role of Uma Kashyap in the sensational murder of Phoolan Devi has become the key subject of the current probe.

The antecedents of the 35-year-old Roorkee-based woman and her close connection with not only Sher Singh Rana, alias Pankaj, but also Phoolan's husband Umed Singh, had aroused suspicion about her role in the entire episode.

Pankaj was arrested by the Uttaranchal police in Dehradun earlier on Friday, while on his way to address a press conference, ostensibly to own up the crime.

Notwithstanding the much emphasised claims of Samajwadi Party spokesman Amar Singh that Uma was not a member of his party, sources in Roorkee confirmed that she was always seen hobnobbing with SP leaders.

"She even contested the last municipal election with the support of the Samajwadi Party," said a local politician.

Officials were, however, tight-lipped about the political affiliations of both Uma and Pankaj.

"We did not probe their political connections," Uttaranchal police chief A K Sharan told rediff.com over telephone.

However, Sharan had gathered enough evidence on the close nexus between Pankaj and Uma, whose husband Vijay Kashyap was a class IV employee in the Roorkee municipality.

"Both nurtured political ambitions and were looking for the right connections to take them to their desired destinations," he said.

Uma was believed to have first come in contact with Phoolan about four years ago after the former bandit queen lost the parliamentary election from Mirzapur and decided to float her own non-political outfit Eklavya Sena.

Since both belonged to the mallah (boatmen) community, they stuck a rapport and Phoolan appointed Uma as the head of the Roorkee unit of the Eklavya Sena.

A go-getter, Uma also established a good rapport with Phoolan's husband Umed Singh, who had by then earned the reputation of a wily wheeler-dealer.



Life in prison for killer of India's Bandit Queen



Edited 7 time(s). Last edit at 07/10/2016 05:03PM by administrator.